Compatibility mode for Internet Explorer
Compatibility mode in Internet Explorer (IE) is a feature that helps you view webpages that were designed for previous versions of the browser. Once you turn on Compatibility View, IE will automatically show the websites in compatibility view each time you visit them.
Internet Explorer 11
Windows 10
Navigate in Internet Explorer to the site you are trying to access.
Press the ALT key to display the menu bar.
Click the Tools menu and choose Compatibility View Settings.
In the field for Add this Website, enter the URL of the site you want to add to the list.
Click Add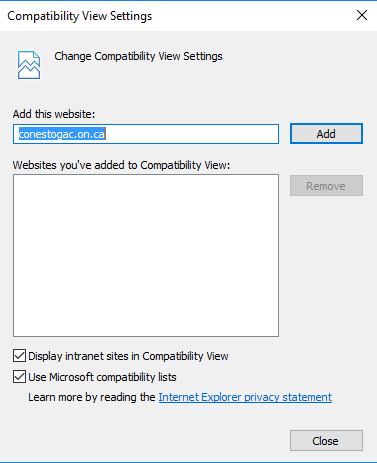 Turn off Compatibility View
You may turn off Compatibility View for this site by removing it from your saved compatibility list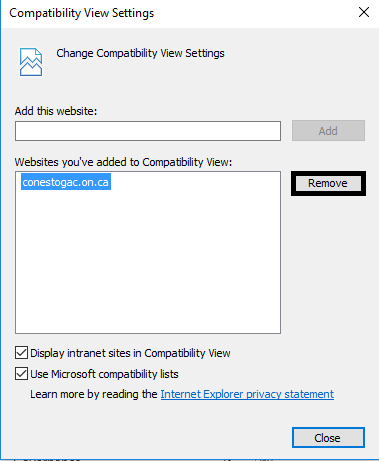 For Internet Explorer 10, IE 9, and IE 8

Navigate in Internet Explorer to the site you are trying to access.
Check if the Compatibility View icon appears in the address bar. If it does not appear, there is no need to use Compatibility View
Press the Compatibility View icon to display the site in Compatibility View. The icon will be highlighted in blue.
To turn off Compatibility View, press the highlighted Compatibility View icon. Otherwise, you may clear the list of Compatibility View sites (outlined below).
Turn off Compatibility Mode
Open Internet Explorer and press the ALT key to display the Menu bar
Select Tools (gear icon) and then select Delete browsing history.
In the Delete Browsing History dialog box, select the History checkbox, and then Delete.