Qualtrics Survey Software Guide

Conestoga College offers the Qualtrics Survey tool to faculty, staff and students. It is an easy-to-use, full-featured web-based survey tool for creating and administering online surveys. To get an account, simply send a request to institutionalresearch@conestogac.on.ca. Students will need a Conestoga staff or faculty member to request accounts on their behalf.
Features include:

Survey library with customizable templates

Send and track participation invitations and reminders

Display survey results, graphically and statistically

Export data in a variety of formats, including CSV

Collaborate with coworkers on survey projects and share results


Log in to Qualtrics:
Go to conestoga.qualtrics.com
First-time users will log in using their Condor ID after your account is created by institutional research

Creating a Survey

After you log in to Qualtrics, click Create Project

Select Blank Survey Project, enter the  Name of the survey and click Create Project
Adding Questions
The main area of the Survey tab is the survey editor. Here you can create or edit individual questions.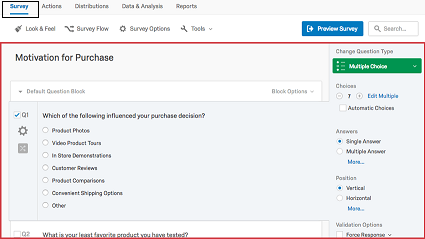 Learn more about question setting and the look & feel of your questionnaire here.
Creating a Contact list
A contact list is a mailing list that has been entered or uploaded into Qualtrics. Qualtrics has three options for building a contact list:
Import contacts from CSV file

Importing Contacts from CSV File:
Create a spreadsheet in Excel, save the file in a CSV format. Note that the maximum file size is 100MB

Add column titles (FirstName, LastName, Email). Note that the order of columns doesn't matter, however, pay attention to spelling and capitalization 

Navigate to the Contacts tab (top right of the Qualtrics interface), and click the Create Contact List button (top-right)

Drag and drop your file or click Browse and select your file. (Remember, CSV format is the only one supported by file uploads)
Review the fields (columns) that Qualtrics detected in your file. If errors are noted, make sure that you have "Email" and "FirstName" fields assigned to appropriate fields in your file – you might have to set these manually using the "Fields" drop-downs.

Survey Distribution

Once you have built your survey, you can use the Distribution Tab to gather responses. You can choose from emailing, sharable links and QR codes, and posting via social media sites.


Quick and Easy Link
The quickest way to send out your survey is to create an anonymous link, which you can send in an email to your respondents or post it online. Just keep in mind that an anonymous link gives you no way to track who has participated. You will need to ask for people to disclose their identity in your survey if you need to connect with them or send them a prize, and if you send out a reminder, you'll have to send it to everyone you've invited, even if they've already finished. If you can, we typically recommend you use a contact list to distribute your survey for these reasons.

Emailing a Survey invitation
Navigate to the Distribution module
Open the Emails section and click Compose Email

Click Select Contacts
Choose the library where your contacts are located

Select the appropriate contact list. You can choose to send the emails to your entire list or an individual member

From Address, From Name and Reply-To Email will be populated by default.  You can change the From, and Reply-To Addresses to your Conestoga email account if you wish, which may improve response rates since many people may ignore "no-reply" emails

You can configure when your invitation goes out – you can schedule things at a future date/time or send it out immediately


Once you have completed your email and are pleased with it, you can send yourself a test copy and schedule / send the invitation. After that, you can also schedule Reminders, which will only go out to those on the contact list who have not responded when the reminder sends.

Distribution Summary:

The distribution tab provides an overview of your collected responses for a survey. Your responses are broken down by distribution channel, with an interactive graph displaying recent response trends and a table showing all responses collected so far.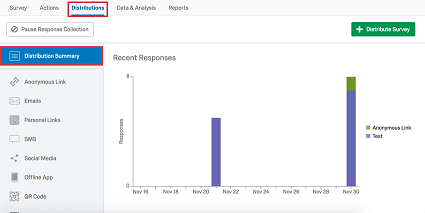 Data Analysis:

The Data & Analysis tab allows you to manage, add information to and analyze individual responses on your survey.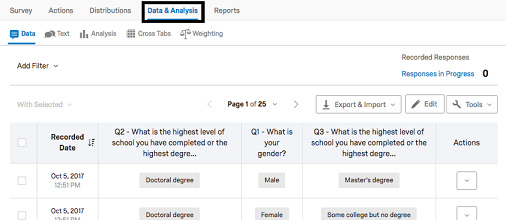 Reports:

The Reports tab allows you to see your survey's results at an aggregate level. By default, in the "Results" sub-tab, the platform attempts to model each of your questions using a template (which you can edit using the "Gear" icon in the top-right of the screen - then click Report Settings). You can edit any of the visualizations or make new ones according to the options available. The "Reports" sub-tab allows you to create your own custom reports for printing or sharing, adjusting the size and dimensions of each graph.
You can make various reports for each survey. All reports you make can be shared as PDF, Word, PowerPoint, and you can share them via a public link webpage – which you can password protect if needed.

Learn more about reporting here: https://www.qualtrics.com/support/survey-platform/reports-module/results-section/reports-overview/

Extract Your Survey Data:

In the Data & Analysis tab there is an "Export & Import" drop-down near the right-side at the top of the table. You can extract the raw data of your survey in a variety of formats. Most of the time you'll probably want a simple CSV spreadsheet, but you can also download the results in SPSS, Excel, XML, and Google Sheets. Learn more about exporting your data here: https://www.qualtrics.com/support/survey-platform/data-and-analysis-module/data/download-data/export-data-overview/

If you are a Conestoga staff member and are having difficulty analyzing your survey results, you may contact Institutional Research, and we may be able to assist.

Sharing a Survey:

When you login to Qualtrics, you see your homepage. You can get back here by clicking "projects" at the top-right of the screen. From this page, you can manage your surveys, which includes "Collaborate". Here you can give people who have authorized accounts in Conestoga's Qualtrics system access to your surveys, and you can also customize what privileges / access they have. For more information, see:
https://www.qualtrics.com/support/survey-platform/my-projects/sharing-a-project/
​
Tips and Tricks from Institutional Research



Best Practices Regarding Invitations and Reminders

Remember the Survey Policy and Procedure! If your survey is going to be over 100 students, plan ahead, and talk to Institutional Research.

Always preview your invitation email before you send it.

Your email must include: a survey link, and an opt-out link. (Which opts out the respondent from your contact list.)

We recommend making the survey link in a larger bold font to draw attention to it. We don't typically recommend making the long URL version ( ${l://SurveyURL} ) quite as large or bold. You want to make it easy to participate. And there's no harm in making the opt-out link smaller; just make sure it's legible/accessible.

Your email should:

Identify what your survey is about​​​


Identify why you are conducting this survey

Identify what you will do with the data

Identify when your survey closes (if applicable – often this is when you'd prefer results to be in or when you'll do your analysis)

We typically recommend two weeks for surveys, with one reminder about halfway through and optionally a second one close to the end date. Try not to remind people more than twice – there are diminishing returns for reminders, and you don't want to annoy anyone unnecessarily.

Identify who is overseeing the survey, where to ask questions or get assistance

Identify whether the survey is voluntary, confidential, and/or anonymous

Often you do not need to make a survey fully anonymous, confidential is usually fine – people typically want to know that their data is secure, and will not be used to identify them.

​What's most important here is that you are honest. If you say the survey is going to be anonymous, make it so. Just keep in mind that anonymous surveys make it nearly impossible to troubleshoot technical glitches (but those are rare).


Indicate how long the survey will take to complete (for example, 2-3 minutes)

Academic Support Portal

To help students use Qualtrics successfully, and to ensure you never need to update Qualtrics Support links in the future, Qualtrics has created the
Academic Support Portal
, linking to: 
24/7 Qualtrics Support (Chat, Email, & Phone)
Qualtrics User Community
Qualtrics Support Pages