Printing Guidelines for Open Labs
Listed below are several guidelines for printing on campus. These guidelines are also posted next to lab printers.
All printing must be school-related.
All Conestoga College students start with 40 non-refundable print credits.
This Print Balance renews at the beginning of every term.
Maximum print job size is 100 print pages (100 pages single-sided prints, 50 pages double-sided prints)
The maximum number of copies per print job is 4.
If you need to print more than 50 print pages, break your document down into smaller print jobs.

Where possible, practice paper conservation:

Use double-sided printing
Print multiple pages on a single sheet
All print jobs are recorded. Conestoga College reserves the right to restrict a user's printing if inappropriate printing is occurring.
Printing Rates/Copying
All students are allotted 40 non-refundable print credits at the beginning of each term. Once your non-refundable print credits reach ZERO, print charges will start deducting from your CONDOR CASH (ONECARD) account.

To continue printing, add funds to your
ONECARD
.
Listed below are paper sizes and the charges for printing/copying.

| | | | | |
| --- | --- | --- | --- | --- |
| Size | Color | Grayscale | Colour Duplex | Grayscale Duplex |
| Letter | $0.15 | $0.05 | $0.10 (each side) | $0.04 (each side) |
| Legal | $0.15 | $0.05 | $0.10 (each side) | $0.04 (each side) |
| Ledger (11x17) | $0.25 | $0.10 | $0.20 (each side) | $0.08 (each side) |
| Default (Other Sizes) | $0.25 | $0.10 | $0.20 (each side) | $0.08 (each side) |
| Plots | $1.00/sq. meter | ​ | ​ | ​ |
Print from an Open Access Lab
Printing is available at Conestoga College, from any Open Access Computer.
Simply print your document as you usually would, and pick it up from the printer.
The cost of the print job will be automatically deducted from your Print Balance.
How to Check Your Print Balance

Please complete the following steps to check your current Print Balance

Go to the Conestoga College Print Portal (only available on campus or with a VPN connection).

Log in using your Conestoga Email and Password.
Your Balance will be displayed on the main page.

Use Mobility Print on your Laptop
 If you would like to use Mobility Print please follow the steps below:

Go to http://papercut01.conestogac.on.ca:9163/setup and follow the instructions on the screen.
Download the Mobility Print Printer Setup file
Select the printer you want to add to your device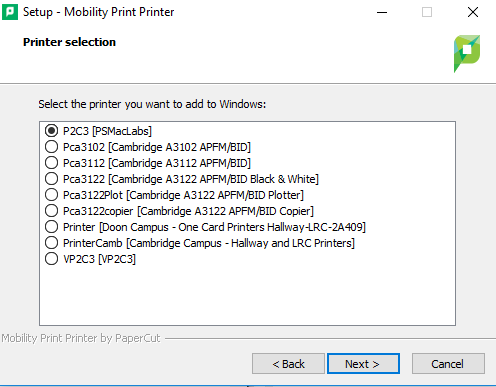 4. Login with your CONDOR ID and password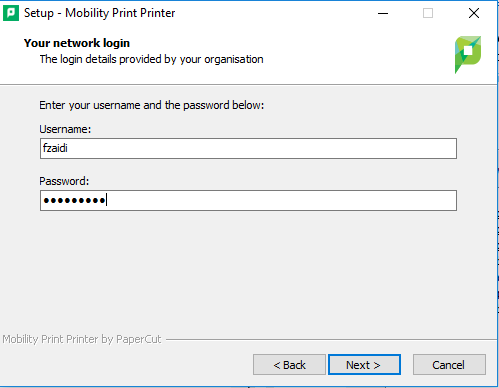 5. This will install the software on your device.
How to Increase your Print Credits
Once your Non-Refundable Print Credits reach ZERO – print charges will start deducting from your CONDOR CASH (ONECARD) account.
To continue printing, add funds to your
ONECARD
Employee Department Printers
How to Add a Printer to your laptop or computer
Note: Printers can only be added on campus. Printers cannot be added or accessed while connected to the VPN.
Step 1: Determine your Printer Server based on your location:
Brantford campus

Print Server: \\PSSF01B.conestogac.on.ca

Cambridge campus (850 Fountain St S)
Print Server: \\PSSF01DS.conestogac.on.ca
Guelph campus
Print Server: \\PSSF01G.conestogac.on.ca
Ingersoll campus
Print Server: \\util01i.conestogac.on.ca
Kitchener - Doon campus (299 Doon Valley Dr.)
Print Server: \\PSSFDOON.conestogac.on.ca (Main Building)

Print Server: \\PSSFESB.conestogac.on.ca (ATS, Employee Service Building ESB, Rec Centre, Wood Skills)
Print Server: \\PSSFSCSB.conestogac.on.ca (Welcome Centre)
Kitchener - Downtown campus
Print Server: \\PSSF01DTK.conestogac.on.ca
Stratford campus
Print Server: \\util01s.conestogac.on.ca
Waterloo campus
Print Server: \\PSSF01W.conestogac.on.ca
Reuters campus
Print Server: \\PS01R.conestogac.on.ca

Riverside Glen
Print Server: \\PS01riverside.conestogac.on.ca

Step 2: Open the printers list window

Press the Windows Key + R to open the Run Windows. Type in two backslashes \\ followed by the name of the print server for your location. Click OK.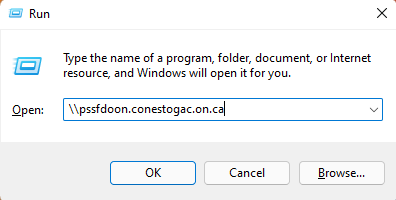 Step 3: Most laptops will automatically authenticate. However, some laptops might prompt for your email and password.
Step 4: Find the printer you would like to connect to in the window that pops up and double-click the printer. Windows should automatically find, install the driver, and add the printer to your laptop/computer. The printer will be named after the room it is in, prefixed with the letter P. Also, the name is usually on a label affixed to the front of the printer.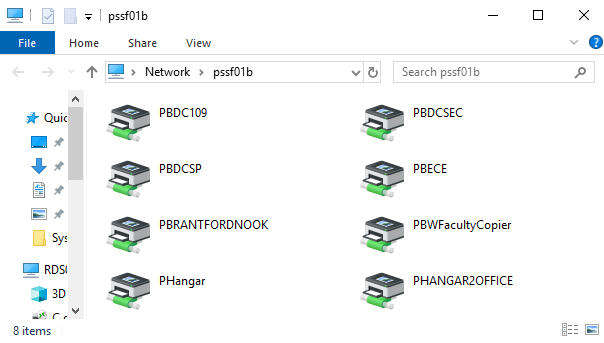 Step 5: Wait for the process to complete and do a test print.

Ordering Toner Cartridges for Office Use
To order a toner cartridge for office use, please send the request to IT Services with the Printer Model and/or Toner/Ink Cartridge Number.  Include the colour ink/toner if the request is for a colour printer.  The cartridge(s) will be delivered via Shipping and Receiving.

This process does not apply to the large Canon and Ricoh copiers. Copier toners are ordered through your department and not through IT. For service to these machines, please contact their manufacturer.